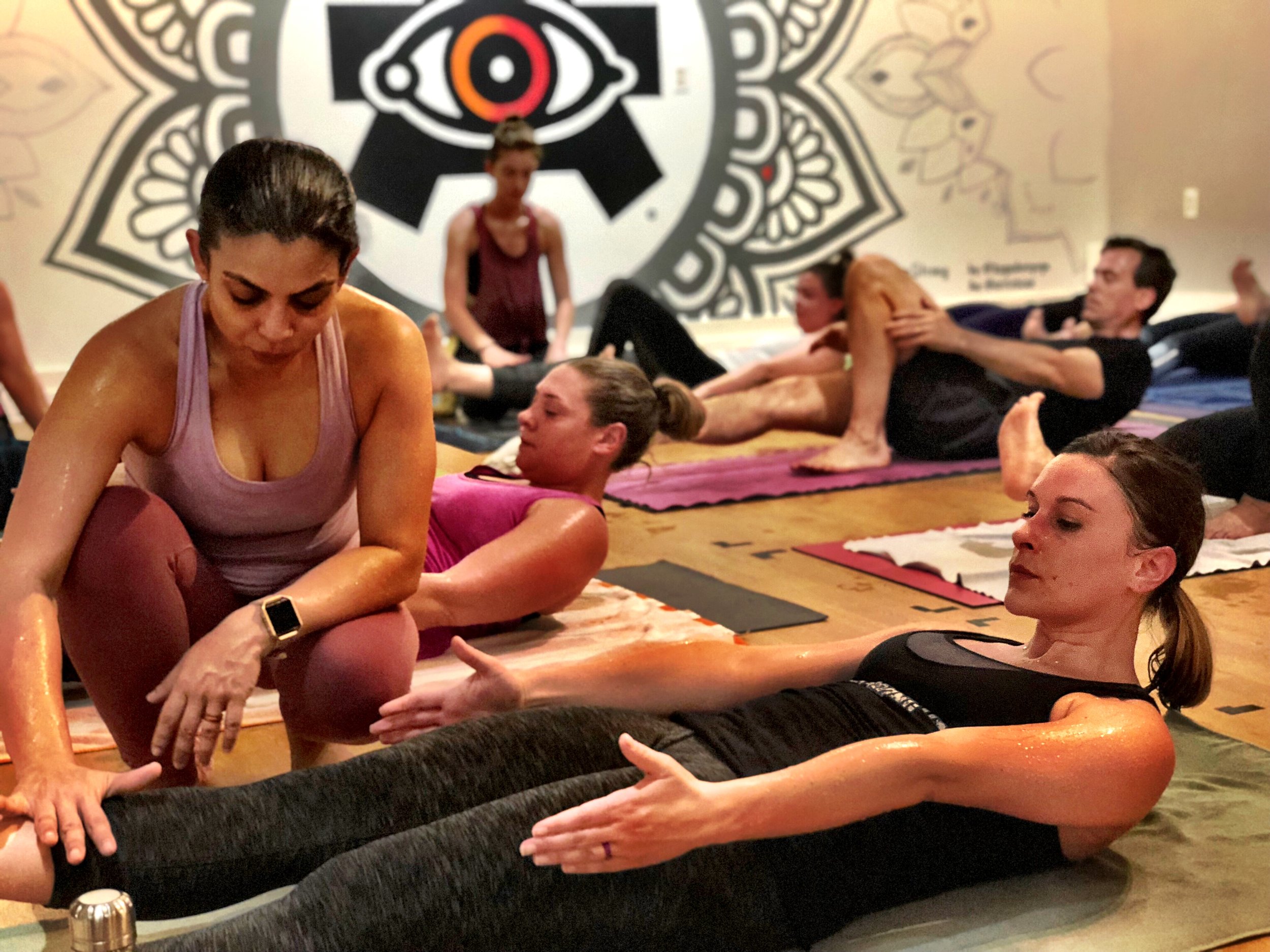 FRANCHISE ARRICHION
Own and operate a successful fitness studio using the "The Arrichion System"
Arrichion is a successful hot yoga and circuit training studio model. The Arrichion System is not just your average yoga studio. It's a proven and time-tested system that caters to everyone looking for athletic yoga and circuit designed to get fitness results. It is appropriate for all ages, gender, and fitness levels.
The Arrichion System is designed to help clients reach their goals, drawing on a range of strength and flexibility training techniques and best practices. With the Arrichion System, clients can combine the benefits and techniques from our range of classes to achieve their individual goals. Arrichion gives you powerful tools across disciplines, and expert coaches to help you get results.
Strength through Focus defines the Arrichion brand.
FOCUS ON COACHING
Coaches Trained to Bringing Out the Best In Every Individual
Coaching anchors the Arrichion business model. We've drawn from our background as competitive athletes and coaches of championship teams to develop a system for training Arrichion franchisees and teachers to become coaches.
Coaching is at the heart of everything we do. Developing coaches is our unique value proposition. It differentiates us from the rest.
Good program design is essential, but workouts can be copied. Having the skill to coach clients and to coach teachers to coach clients is unique. It's hard to replicate.
The best coaches focus on getting results. The best coaches are great teachers and great motivators. They believe in development over talent. They know when and how to push someone to the next level and when to pull back. They focus on the process and not the destination. Great coaches are always learning.
Arrichion franchisees become coaches. Arrichion instructors become coaches. Arrichion clients win.
FOCUS ON CLASSES
Classes Consistently Delivered and Designed for Results
Real athletic experience informs the design of our hot yoga, old-fashioned HIIT circuit training, and selected olympic weight-lifting program. Creative workout combinations provide improved results. Group classes increase client motivation and accountability. Our program is backed by the latest in science and research.
Franchise owners benefit from well-designed classes that have produced results. Classes that work for the newbie and the professional athlete. These classes have taken hundreds of hours to develop and finesse. Arrichion hot yoga, circuit, and weight lifting classes are designed for results and consistency. We provide a boutique one-stop shop.
FOCUS ON COMMUNITY
A Culture That Values and Celebrates Diversity and Community
The development of community has to be organic to be authentic. You can organize events and set policies for employees, but those things, although nice, don't result in community. Community kind of sneaks up on you—it's hard to describe, but you know when it's there.
Arrichion membership is not that of a stereotypical yoga studio. We attract a very diverse clientele from many perspectives—for example, ethnicity, age, gender, and athletic background. We value each for who they are and they value each other.
We have clients who are professional athletes in class with individuals who have little to no experience with exercise and each of them sees results.
Arrichion studios operate from a common purpose. A strong belief in the value of fitness and that regardless where you start you can get better--#arrichionstrong. It's a commitment to treating everyone with respect.
FAQ:
What are you looking for in a franchisee?
Arrichion is an athletic hot yoga and circuit training business. We are looking for athletic individuals who are coachable and committed to coaching others.

What is your franchise fee?
Current franchise fee is $25,000. Discount available for multiple locations.

What is the initial start-up cost for an Arrichion studio?
Franchise fee and start-up costs range from $100k-$170k. Real estate costs and facility upfit not included.

What is your monthly royalty and marketing fee structure?
• Current royalty is 5% of gross monthly sales.
• Current marketing fee is 2% of gross monthly sales.

.
REQUEST FRANCHISE INFORMATION