Quinn Reynolds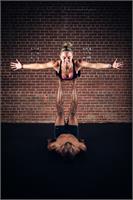 Quinn Reynolds grew up in a family of wrestlers. She spent countless hours watching her brothers' practice and her dad coach. They were a family of athletes and she was too. She took gymnastics lessons; she took swimming lessons; she took ballet lessons (ask her about them). One day when she was about nine years old and watching yet another intensive wrestling workout she declared that she wanted to sweat, too. No, she did not join the wrestling team. She wanted to learn to play soccer. And so her parents found her a soccer tutor and she spent the next 13 years training and playing soccer year-round including a successful career as a scholarship soccer player for the University of Illinois. The desire to sweat continued, but was never fully satisfied until she stumbled on a hot yoga class. The discovery of hot yoga transformed her passion for physical and mental well being and she committed to combine it with her athletic expertise and adventurous spirit to bring the benefits to others. Quinn studied under Jacqueline Heisel at Frog Lotus Yoga where she received her 200 hour Yoga Alliance certified teacher credentials in Hatha and Vinyasa flow yoga. She continued her training by completing a 500 hour Yoga Alliance certification at Sunstone Yoga under the direction of Nicole Shaw.
Quinn Reynolds instructs the following:
A challenging power flow/vinyasa class, great strengthening and endurance workout. Practiced to music.




Fundamental hot yoga series. Improve balance, strengthen, and increase flexibility. Recommended for beginners.




A challenging & upbeat flow/vinyasa class, practiced to fun music with advanced poses.




Relax and mellow out with this deep stretch/slow flow class. This class has limited instruction and practiced to music in a (LED) candlelit room.




Core strengthening series. Hot Pilates. This series includes techniques that will help you build muscle through body weight resistance and engagement of small muscle groups.